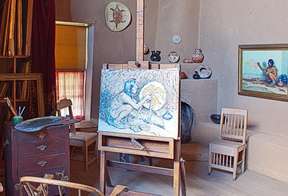 Saturday, October 11, 2014
Couse-Sharp Historic Site Open House, October 11, 2014
3:00pm-5:00pm
146 Kit Carson Rd.
October 11, 2014
The Couse Foundation will host its last Open House for the season on October 11, 2014, from 3 to 5 p.m., at 146 Kit Carson Road, for the closing of the exhibit, "E. I. Couse, the Painter and His Craft." The exhibit features E.I. Couse's painting techniques and includes examples of the photographs, drawings and studies Couse used in his process. Tour the historic studios of E.I. Couse and J.H. Sharp, two of the founders of the Taos Society of Artists, and enjoy a delightful stroll through Virginia Couse's vintage garden. Also visit the studios of Randy LaGro, Ed Sandoval, Ann Huston, Gail Goodwin, and Gene and Sara Jean Gray.
This will be a special Open House as we will be sharing the seeds from the "Mother Garden" with the community.

Please contact us or come to the Open House on October 11, 2014. You may reach us at 575-751-0369 or send an email to admin@couse-sharp.org.