Saturday, September 3, 2016
The Couse Foundation in conjunction with the Harwood Museum present a panel discussion, "Taos Society of Artists: Western Art or American Art?" September 3, 2016
10:00 a.m. - 12:00 p.m.
The Harwood Museum, Taos, NM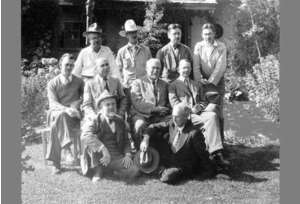 The Couse Foundation in conjunction with the Harwood Museum present a panel discussion at the Harwood Museum - Arthur Bell Auditorium on September 3, 2016, from 10:00 a.m. - 12:00 p.m.

Join us for a lively debate about the labeling of the Taos Society of Artists with panelists Mindy Besaw, Curator of Crystal Bridges Museum of American Art, Michael Grauer, Associate Director for Curatorial Affairs/Curator of Art and Western Heritage at the Panhandle Plains Historical Museum and Dean Porter, Director Emeritus of The Snite Museum. The moderator of the event will be Josh Rose, editor of American Fine Art Magazine, Western Art Collector and Native American Art Magazine.
The Harwood Museum is located at 238 Ledoux Street, Taos, NM 87571. Tickets are $10.00, $8.00 for members. Please contact the Harwood Museum for more information or to purchase your tickets at 575-758-9826.

Later that day, attend The Couse Foundation's regularly scheduled Open House at the Couse-Sharp Historic Site from 3:00 - 5:00 p.m. The exhibit, "Visionaries in Clay, Pueblo Pottery Past and Present" continues to run in the Luna Chapel at the Site until the end of October.