Saturday, August 5, 2017
Lecture by Christina E. Burke - A Pictograph is Worth A Thousand Words: Reading Native Pictography
10am
Harwood Museum of Art | Arthur Bell Auditorium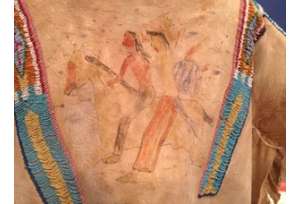 The Couse Foundation, in conjunction with the Harwood Museum of Art, presents a lecture by Christina E. Burke titled A Pictograph is Worth A Thousand Words: Reading Native Pictography.
For thousands of years, Native people of the Plains and Plateau painted images on hide clothing and other objects to record and remember stories of brave deeds and unusual events. Translating and understanding this narrative visual language provides insight into Native culture from Native perspectives. Featuring a Plateau shirt from the Couse Foundation, this presentation will explore the pictorial tradition of recording indigenous history.
Christina Burke is Curator of Native American and Non-Western Art at the Philbrook Museum of Art in Tulsa, OK. The Foundation is delighted to underwrite her lecture.
Purchase advance tickets through The Harwood Museum | 575.758.9826 | Mon-Fri 10am - 5pm, Sat-Sun 12pm-5pm or at the time of the lecture ($10 - $8 members)