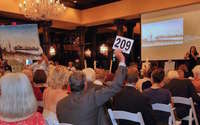 Special purchase
$175
Special purchase
Admission for one to The Couse Foundation Sixth Biennial Gala & Art Auction on Saturday, June 15, 2019, at El Monte Sagrado Resort in Taos, New Mexico.
As of late March, we are virtually sold out. If you have previously contacted the office about reservations, please proceed to purchase. Otherwise please contact us at admin@couse-sharp.org or 575-751-0369 to inquire about tickets.
To add your Gala ticket(s) to your shopping cart, click on the PayPal button below. You can specify the number of individual tickets using the PayPal menu that will then appear. You do not need a PayPal account to order your Gala tickets online, just a credit card (Visa, MasterCard, American Express, or Discover).
A physical ticket will not be provided and is not necessary; the Gala Registration Table at El Monte Sagrado on June 15 will maintain a list of ticket purchasers and begin admitting at 5 pm.
Please be sure to include your preferred contact information during the purchase process so we may confirm your ticket and collect your RSVP for the optional "Hardhat Tour" and reception on Friday, June 14, 5-7 pm in the future Lunder Research Center at 138 Kit Carson Road, Taos.
Thank You!

shipping:$0