Saturday, July 7, 2018
Lecture by Virginia Couse Leavitt: In My Grandfather's Footsteps
10am | Ticketed event
Harwood Museum of Art | Arthur Bell Auditorium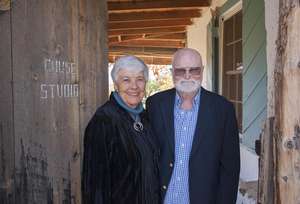 The Couse Foundation presents a lecture by Virginia Couse Leavitt, granddaughter of early Taos painter E. Irving Couse. Leavitt will speak about the research trips she and her husband made to Europe in the 1980s. Using sketchbooks, photographs, and letters from the Couse Family Archive, the Leavitts were able to relive Couse's summer vacations spent in several French art colonies during his student years at the Académie Julian in Paris. Leavitt is an art historian who is the authority on her grandfather's work; the Leavitts were instrumental in preserving the Couse-Sharp Historic Site and ensuring the painters' legacies.
Tickets are $10.00 for general public and $8.00 for members of the Harwood Museum of Art. To purchase advance tickets, call the museum store at 575-758-9826.
Seating is limited, doors open at 9:30 am.