Saturday, June 12, 2021
20th Anniversary Commemoration Drawing
11 am MT
online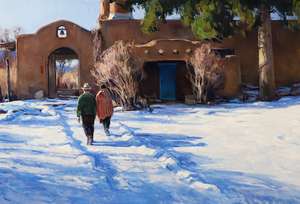 Our usual biennial Gala and Art Auction previously schedled for June 2021 in Taos has been postponed. You can still express support for us by participating in our 20th Anniversary Commemoration here.
Your $100 ticket supports The Couse Foundation's mission and vision, and purchases the following:
• A surprise commemorative gift (one per household)
• One entry per person for a "virtual door prize" drawing for Josh Elliott's
original painting A Friendship (oil,15x30, estimated value $7,000)
Ticket requests must be received by 5 p.m. Mountain Time on June 5 to qualify for the drawing. All ticket holder names will be placed in the Couses's silver punchbowl for the drawing event at 11 a.m. Mountain Time, June 12, 2021 – check our Facebook page for information on the livestream. Need not be "present" to win; the lucky winner will be notified via email and phone. Like regular gala tickets, the purchase price is not tax-deductible because purchasers are receiving a benefit.
If you wish to make a tax-deductible donation in addition to or in lieu of a ticket, please do so at couse-sharp.org/donate. We appreciate every penny!
For more information, contact us at admin@couse-sharp.org or 575.751.0369
Thank you for supporting our anniversary celebration and our programs into the future!