La Luz de Taos - Gala 2024
Our Eighth Biennial Gala and Art Sale, La Luz de Taos 2024,
takes place June 14–15.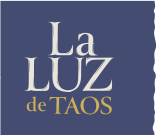 Key dates & events

Wed Nov 1
- La Luz de Taos weekend tickets on-sale now
Click icon to buy tickets with your credit card:

Fri Apr 12
- La Luz de Taos exhibition opens in the Lunder Research Center, CSHS
- LaLuzdeTaos.org exhibition website goes live
- Ballot sets available online for draw sale
Fri June 14
- Exhibition Reception, Art Preview, and Historic Site Open House
Sat June 15
- Gala & Art Sale, El Monte Sagrado Resort
Draw sale participating artists include
Bill Acheff
Autumn Borts-Medlock
Eric Bowman
Nocona Burgess
Arturo Chavez
S.M. Chavez
John Coleman
Nicholas Coleman
Josh Elliott
Phil Epp
Jody Folwell
Logan Maxwell Hagege
Brett Allen Johnson
Jerry Jordan
Jivan Lee
Jeremy Lipking
Arthur Lopez
Ira Lujan
Mark Maggiori
J. Chris Morel
Ben Pease
Howard Post
Kevin Red Star
Nathaniel Volckening
Yellowbird Samora
Don Sandoval
Ed Sandoval
Roseta Santiago
Billy Schenk
Jim Vogel
Andrew Roda
Scott Yeager
Your $275 purchases one ticket to the events and a set of ballots for the art sale. You can purchase multiple tickets by changing the quantity at checkout.
Each ticket includes:
• One full set of draw sale ballots
• Friday evening events at Couse-Sharp Historic Site
o La Luz de Taos exhibition closing reception
o Draw sale art preview
o Historic Site open house with docents in each room to interpret
o Hors d'oeuvres, wine, and beer
• Saturday Gala at El Monte Sagrado Resort
o Draw sale for exhibition art
o Trunk sale of select wearable art
o Array of light plates, wine, and beer
o Musical entertainment
When you click one of the links below to purchase, please also supply your preferred email address and mailing address so we can send you important location and scheduling details, solicit your RSVP for events, and ensure your nametag is accurate.
Pay by PayPal or credit card
Click icon to buy tickets with your credit card:

Click icon to buy tickets via PayPal
IMPORTANT NOTES:
• Entering an accurate email address and phone number is very important so we may contact you.
• If you wish to buy multiple tickets, you can increase the quantity in the shopping cart during checkout.
• No tickets or ballots will be mailed; you'll be on lists for each event and your sale ballots will be issued to you when you arrive at the Gala on Saturday, June 15.
• You can preview the art at LaLuzdeTaos.org and in person at the June 14 event; ballot placement will take place at the Gala.
For more information, contact us at admin@couse-sharp.org or 575.751.0369 Thank you for supporting our programs into the future!
SOME TAOS LODGING OPTIONS
CASA BENAVIDES casabenavides.com
575-758-1772
Regularly $130 - $199
EL MONTE SAGRADO elmontesagrado.com
Saturday Gala venue
877-901-7666
HOTEL DON FERNANDO hoteldonfernando.com
575-751-4444
Regularly $160-170 (breakfast not included)
OLD TAOS GUESTHOUSE oldtaos.com
Cady and Bob Aspinwall, 575-758-5448
Regularly $149 - $229
SAGEBRUSH INN sagebrushinn.com
Book at 575-758-2254
TAOS INN taosinn.com
Book through website or call 855-963-2180
Regularly $170 - $260
TAOS VALLEY LODGE taosvalleylodge.com
Book at 575-737-0447
LA FONDA TAOS lafondataos.com
575-758-2211
$209 - $599
PALACIO de MARQUESA marquesataos.com
855-997-8230
$500 - $516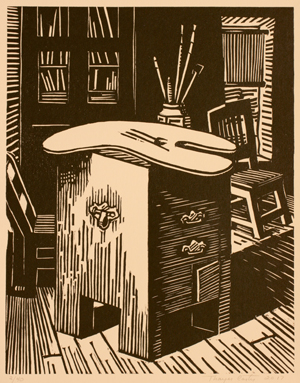 Thayer Carter, Artist Palette, Limited Edition Woodcut