Saturday, October 6, 2018
First Saturday Open House | Artist Demo with Edna Romero | Heritage Garden Giveaway
2-5 pm | Free admission, donations welcome
Couse-Sharp Historic Site, 146 Kit Carson Road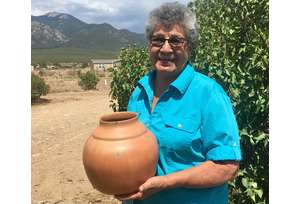 The Couse Foundation will host its last Open House for the 2018 season on Oct. 6 from 3 to 5 pm at 146 Kit Carson Road.
Before the open house, at 2 pm, we will host a pottery firing and talk by Edna Romero, one of the artists featured in our current Taos Pueblo Contemporary exhibition.
Tour the historic studios of E. I. Couse and J. H. Sharp, two of the founders of the Taos Society of Artists. Docents will be present in every room providing in-depth knowledge of the E. I. Couse House and Studio, as well as the newly restored Sharp Studio and the exhibition J. H. Sharp Studio: The Life and Work of an American Legend.
At this open house we highlight the "Mother Garden" of Taos by collecting seeds and cuttings during the year and sharing them with community members and visitors. The seed and cuttings giveaway continues a tradition in remembrance of Virginia Walker Couse's original generosity, which helped establish many Taos gardens.
This will be the last month for the exhibition Full Circle: Taos Pueblo Contemporary in the Luna Chapel, which closes Nov. 3.
For more information, call 575-751-0369 or email admin@couse-sharp.org
VIRGINIA COUSE'S HISTORIC MOTHER GARDEN
Immediately upon their move to their new home on Kit Carson Road in 1909, artist E. I. Couse's wife, Virginia, began developing her famous garden. She designed its architecture of terraces, stone walkways, and a seat overlooking the valley, as well as the colorful palette of flowers that filled its garden beds. She shared the flowers and seeds from her garden generously.
Visitors often left with a bouquet; locals were supplied with flowers for christenings and weddings; newcomers to town were given seeds and plants to start their own gardens. At its final open house of the season in October, The Couse Foundation carries on this tradition with a giveaway of plants including phlox, daylilies, and iris, and the seeds of oriental poppies, cosmos, and hollyhocks.