Friday, October 12, 2018
Book Signing | Peter Hiller & Ann Hedlund, coauthors | "Navajo Weavers of the American Southwest"
12-1 pm
Couse-Sharp Historic Site, 146 Kit Carson Road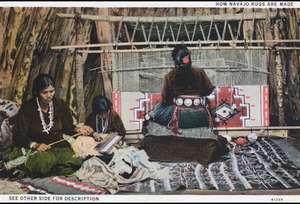 Join coauthors Ann Hedlund and Peter Hiller for a book sale and signing on the historic Couse House portal celebrating the release of Navajo Weavers of the American Southwest.

From the mid-17th century to the present day, herding sheep, carding wool, spinning yarn, dyeing with native plants, and weaving on iconic upright looms have all been steps in the intricate process of Navajo blanket and rug making in the American Southwest.

Beginning in the late 1800s, amateur and professional photographers documented the Diné (Navajo) weavers and their artwork, and the images they captured tell the stories of the artists, their homes, and the materials, techniques, and designs they used. Many postcards illustrate popular interest surrounding weaving as an indigenous art form, even as economic, social, and political realities influenced the craft.

These historical pictures illuminate perceived traditional weaving practices. The authors' accompanying narratives deepen the perspective and relate imagery to modern life.

The book is part of the Postcard History Series by Arcadia Publishing & The History Press.
Retired art educator Peter Hiller has collected native cultural materials since his youth; this volume is comprised primarily of his vintage postcards, photographs, and select artworks. Hiller curates the Jo Mora Trust Collection.

Ann Lane Hedlund is a cultural anthropologist who collaborates with native weavers and other visual artists.

Artist Ramona Sakiestewa began her career in tapestry and has taught traditional Pueblo and Navajo weaving methods.