Saturday, June 15, 2019
Lecture by Dr. Marie Watkins - "So me for the North and snow!": Joseph Henry Sharp's Montana
10am | Ticketed event
The Harwood Museum of Art, 238 Ledoux St, Taos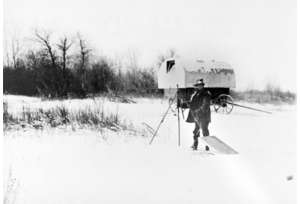 In conjunction with The Couse Foundation's biennial Gala, Dr. Marie Watkins will present a lecture in the auditorium of the Harwood Museum of Art in Taos on the life and work of J. H. Sharp, focusing on his years painting in Montana.
Watkins, Associate Professor of Art History at Furman University, is a specialist in American and European art of the 19th and early 20th centuries. Her professional activities cross over an array of disciplines and include teaching in the United States, Berlin, and London; curating exhibitions in the humanities and the sciences; managing a renal pathology laboratory at Tulane Medical School; and serving as director for City Colleges of Chicago-Europe in Berlin. Watkins holds a PhD from Florida State University.
Watkins' writings have appeared in numerous journals of both art and science. A key forthcoming publication is "The Call of the West: The Art of Joseph Henry Sharp" in The Art of Joseph Henry Sharp (Buffalo Bill Center of the West, 2019).
Her strong research interests include the Taos Society of Artists, women in the arts, the impact of patronage on western American art and how the nature of art collecting shaped late nineteenth-century and early twentieth-century culture. Other forthcoming works include a chapter on Sharp for the two-volume Gerald Peters Gallery publication The Taos Society of Artists and a monograph on the same artist for the University of Oklahoma Press. Watkins has lectured widely at museums and other institutions on members of the Taos Society of Artists. She is also a board member of the Southwest Art History Conference.
Doors open at 9:30 and seating is limited. Tickets are $10 for the general public, $8 for members of the Harwood Museum. To purchase tickets, call the museum at 575.758.9826 and press 0, Tuesday-Friday noon-5 p.m.
(Image Courtesy Buffalo Bill Center of the West, McCracken Research Library, Cody, WY; catalog number P.22.42)