Sunday, June 16, 2019
Book Launch | Eanger Irving Couse biography by Virginia Couse Leavitt
11 am-1 pm
Couse-Sharp Historic Site, 146 Kit Carson Road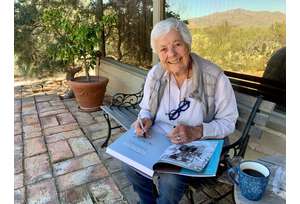 Launch party for Eanger Irving Couse: The Life and Times of an American Artist, 1866-1936, released by the University of Oklahoma Press this spring. This definitive biography of E. I. Couse was written by art historian Virginia Couse Leavitt, his granddaughter. Leavitt will be on hand to sign her masterwork, and copies will be for sale.
Visitors can also tour the historic site, the temporary exhibition Taos Pueblo Portraiture: The Photographic Studies of E. I. Couse in the site's 1835 Luna Chapel, and the permanent rotating exhibition J. H. Sharp: The Life and Work of an American Legend, refreshed this season with the temporary exhibition Joseph Henry Sharp's Montana focusing on the artist's 1903-1908 work in that state.
Open to the public, free admission.