Saturday, September 7, 2019
First Saturday Open House | "Hard Hat" tour of planned research center
3-5 pm | Free admission, donations welcome
Couse-Sharp Historic Site, 146 Kit Carson Road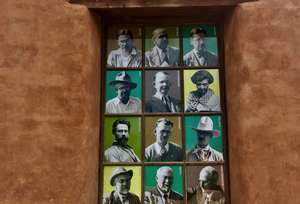 Join The Couse Foundation for a "hard hat" tour of the under-construction Lunder Research Center for the study of the Taos Society of Artists. Demolition (interior only) of the storied Mission Gallery building, which incorporates the remnants of the home of artist J.H. Sharp, has been completed, and visitors can see its exposed original adobe walls and portal roof. View the plans for the new museum facility and envision where the archives, gallery, collections, and other spaces will be when the center opens in mid-2021.
Open house guests can tour the entire historic site. Docents in every room provide in-depth information on E. I. Couse home and studio, Virginia Couse Heritage Garden, Kibbey Couse lab and machine shop, and the 1915 Sharp Studio. Also on view are the temporary exhibitions Taos Pueblo Portraiture: The Photographic Studies of E. I. Couse in the site's 1830s Luna Chapel, Joseph Henry Sharp's Montana focusing on the artist's work in that state, and the permanent rotating exhibition J. H. Sharp: The Life and Work of an American Legend.
Open to the public, free admission; donations encouraged. Relevant books, DVDs, and other items for sale.
To access any of the tour segments including the Lunder Center tour, come to the main entrance at 146 Kit Carson Road. Free parking available a half block east in the municipal lot on Kit Carson Road. Please note: Because of the site's nature as a place of historic preservation, buildings and grounds are not ADA accessible.