Tuesday, March 15, 2022 - Tuesday, December 31, 2024
Joseph Henry Sharp: The Life and Work of an American Legend
Open by appointment and during open houses
Sharp's 1915 Studio, Couse-Sharp Historic Site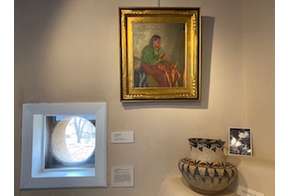 This exhibition, installed in the free-standing studio Sharp built in 1915, covers the artist's entire career and includes numerous works of art, correspondence, and Native American artifacts that he collected and which appeared in his paintings. Each summer the exhibition is refreshed with new artwork and ephemera.
The 2017 studio renovation and the exhibition were made possible through the generous support of The Tia Collection in Santa Fe; additional funding was provided by the Charlie Russell Riders Foundation of Big Fork, Montana.
Sharp was one of the founding members of the Taos Society of Artists (TSA), comprised of E. Irving Couse, Oscar E. Berninghaus, W. Herbert Dunton, Ernest Blumenschein and Bert Phillips. Sharp was the first of the "Taos Six," as the founding members are known, to visit Taos in 1893, and is often referred to as the "Spiritual Father" of the TSA. In the years that followed the members of the TSA. created one of the most influential art colonies in the United States, making Taos an international art center. Responding to the light and color of northern New Mexico, these artists created a new American art lexicon based on the unique combination of Native American, Hispanic and Western Anglo-American cultures, set in the dramatic Taos landscape.
Although rendered deaf at an early age, Sharp possessed a courageous character and a positive disposition. His gentle demeanor and sense of humor endeared him to his Native models, colleagues and friends. Sharp quickly gained notoriety for the visual accuracy of his paintings that deftly captured the soul and humanity of his Native models, representing a shift from prevailing attitudes toward the American Indian. For many years he divided his time between Montana and Taos. During his lengthy stays at his cabin home at Crow Agency in Montana, Sharp painted many of the Native survivors of the Battle of the Little Bighorn, including members of the Cheyenne, Arapaho, Lakota, Blackfoot, and Crow tribes. Acutely aware of their rapidly changing customs and practices, and sought to record them lest they disappear entirely. As Sharp explained in his own words:
"[I try] to present the Indian as he is…mentally as well as physically; not as ephemeral fiction has delighted to picture him, but as a human being…."
This is the first permanent exhibition dedicated to the indomitable spirit of J.H. Sharp and the vision and compassion he shared with the world. The exhibition in the spacious two-story adobe studio he designed and built allows visitors to stand on the site where he created some of his greatest works, read the humor and tenderness in his personal letters, be surrounded by the Native artifacts he collected, and be inspired by his artistic vision.