Saturday, June 5 - Saturday, November 6, 2021
Glimpses of the Past: Historic New Mexico Prints 1880-1950
Luna Chapel, Couse-Sharp Historic Site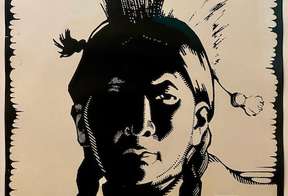 Beginning June 5, Couse-Sharp Historic Site presents a significant exhibition of graphic media focusing on northern New Mexico, most never before seen by the public. Glimpses of the Past: Historic New Mexico Prints, 1880–1950 encompasses a variety of techniques ranging from etching and lithography to woodblock printing, linocut, aquatint, serigraphy and monotype.
"The exhibition is stylistically diverse with examples of academic realism, regionalism, modernism and cubist-inspired abstraction," said David Clemmer, guest curator. "We've included work by artists who will be familiar to many, but the primary focus is on the work of lesser-known printmakers who worked in New Mexico for a few years, for a season, or even only for a few days." The 52 pieces, from a single private collection, are installed in the 1830s Luna Family Chapel at the historic site, which was also Joseph Henry Sharp's first painting studio in Taos.

Once the success and renown of the Taos Society of Artists put northern New Mexico on the art world map, the region began to attract artists from across the country and around the world. Many were painters, but artists who worked in the print medium made the trek as well. A significant number of the exhibited prints were produced from the mid-1920s through the '40s when widespread economic hardship made it difficult for artists to sell their work. The print medium allowed an artist to produce multiple images quickly and inexpensively and sell them at prices affordable for collectors of modest means.

In the late 19th and early 20th centuries, aspiring young artists often served apprenticeships in commercial printing establishments. Others learned graphic arts techniques at academies in the United States and Europe. Several members of the Taos Society, including J. H. Sharp, O. E. Berninghaus and E. Martin Hennings, were fluent in a variety of graphic media. Glimpses of the Past reveals that there were many lesser-known artists who found similar inspiration in the landscape and in the vibrant tri-cultural communities of the region, especially those of Santa Fe and Taos.

"Some of these artists are largely lost to history, though their artwork is of high quality and provides a fascinating look into days gone by," noted Davison Koenig, executive director and curator.

The exhibition includes the work of eight women artists: Blanche McVeigh, Dorothy Stauffer, Norma Bassett Hall, Stella MacLean, Elna Hogin, Rosella de Milhau, Trude Hanscom and Henrietta Dean Lang, whose rare white-line woodblock depicts a Buffalo Dance at Taos Pueblo.

Other highlights of the exhibition include two vibrant linocut portraits by B. Pat Pattison of Taos; the lithograph Junk Dealer, Taos by Albert H. Marvin, Jr., which eschews more commonly depicted landmarks for a charming backstreet scene of everyday life; Leon Pescheret's etching/color aquatint of the Los Ranchos church; Howard Cook's iconic 1927 wood engraving of Taos Pueblo titled Morning Smokes; a pair of rare etching/aquatints by Canadian artist John Wesley Cotton; work by Ukrainian artist Todros Geller; scenes by master etcher Roi Partridge; Andrew Dasburg's 1925 abstract interpretation of Taos Pueblo; Orlin Baker's colorful linocut Chimayo Valley; and Charles Capps' masterly aquatint of the church at Las Trampas.

The exhibition is on view at Couse-Sharp Historic Site, 146 Kit Carson Road in Taos. Admission is free, though donations are gratefully accepted. An opening reception will be held July 3 from 3–5 p.m.

Visitors are able to view Glimpses of the Past by appointment and during the following open hours:

10am – 4pm: July 10, 17, 24
10am – 4pm: August 14, 21, 28
10am – 4pm: September 11, 18
10am – 4pm: October 2, 9, 16, 23

3 – 5pm (during Couse-Sharp Historic Site's open houses):
July 3, August 7, September 4

Except for the schedule of open hours, access is by appointment; available appointment hours are 10 a.m. to 4 p.m. Monday through Saturday. To book, schedule at couse-sharp.org/tour (mention in the notes if you would like a full tour of the historic site or exhibition access only), or call The Couse Foundation at 575-751-0369.

The Site complies with all official pandemic-related protocols in force at any particular time and requires visitors to adhere to them as well.

If you cannot see the exhibition in person, please visit the GlimpsesofthePast.org website.