Saturday, October 2, 2021 - Saturday, January 8, 2022
Resurgence: Mark Maggiori Portraits from E. I. Couse's Pueblo Photos
noon-4pm Tuesday-Saturday
Dean Porter Gallery, The Lunder Research Center, Couse-Sharp Historic Site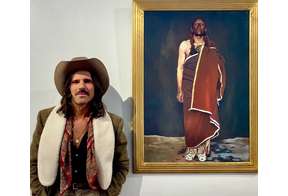 Resurgence: Mark Maggiori Portraits from E. I. Couse's Pueblo Photos is the inaugural exhibition in the new Lunder Research Center. It is currently open Tuesday through Saturday 10 a.m. to 4 p.m. except for holidays. Holiday closures will be Dec. 24-25 and Dec. 31-Jan. 1.
More information, and the exhibition poster, is available at ResurgenceMaggiori.com
Painter Mark Maggiori moved with his wife, Petecia Lefawnhawk, also an artist, to Taos in 2020. Shortly after arriving in Taos, Mark inquired about studio space at Couse-Sharp Historic Site. Because the site was closed for months due to the pandemic, it was a great opportunity to pilot an artist-in-residence program. Mark painted in the 1915 Sharp Studio, continuing a longstanding tradition; the space had often been rented as live/work space to artists after Sharp's death in 1953. Harold Joe Waldrum, Victor Goler, and Randy LaGro are a few of those fortunate enough to create art in the Sharp studio.
During Mark's Taos immersion, he was introduced to the Couse archives. This includes the 11,000 original contact prints that E. I. Couse produced in his lifetime, which were being digitized. Inspired by this treasure trove, largely never before seen, he began a series of portraits of Taos Pueblo models.
"I discovered the photograph collection of Couse last year while I was in residence at the Sharp studio," Maggiori said. "Right away, I felt transported in a time machine. I felt so lucky to be one of the first people to see this material that was being scanned for the first time. I couldn't believe my eyes. Right away came this challenging idea of trying to repaint these images in color. Every detail on these photos is unique and a testimony of the life of Taos Pueblo in the early 1900s. Living now in Taos, it is very important for me to understand the past of this area and the past of the Native Pueblos. Going through Couse material is immensely enriching to me and I hope the viewers will feel the same."
Mark was born and raised in France. His fascination with the West was triggered by a cross-country road trip from New York to San Francisco at the age of 15. Mark studied art at the prestigious Académie Julian in Paris, where many of the Taos Society of Artists were trained, including Couse.
"It's fitting for us to open The Lunder Research Center with this series," said Davison Packard Koenig, CSHS executive director and curator. "Mark's artwork is a compelling example of why archives matter. We built an archive and research center for early Taos art so that artists, scholars, and the public can be inspired. The legacy of the Taos Society of Artists, in many ways, rests with this new generation of artists."