Tuesday, March 8 - Thursday, May 19, 2022
La Luz de Taos 2022
1-5pm Tuesday-Saturday
Lunder Research Center, Couse-Sharp Historic Site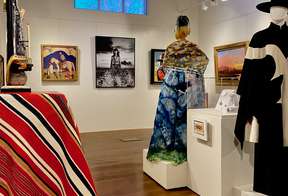 La Luz de Taos exhibition is in the Dean Porter Gallery at the brand-new Lunder Research Center on the downtown Taos campus of Couse-Sharp Historic Site. It features 39 of the most exciting contemporary artists working in a variety of media, including painting, pottery, sculpture, jewelry, and fashion.

The artists of La Luz de Taos 2022 are Tony Abeyta, Bill Acheff, Clyde Aspevig, Thomas Blackshear II, Carla Bogdanoff , Eric Bowman, Chloé Marie Burk, G. Russell Case, S. M. Chavez, John Coleman, Nicholas Coleman, Glenn Dean, Josh Elliott, Phil Epp, Susan Folwell, Tammy Garcia, Victor Goler, Walt Gonske, Logan Maxwell Hagege, Brett Allen Johnson, Jerry Jordan, Jivan Lee, Petecia Lefawnhawk, David A. Leffel, Ira Lujan, Mark Maggiori, Sherrie McGraw, Patricia Michaels, Ed Mell, Paul Moore, Chris Morel, Pat Pruitt, Cara Romero, Maria Samora, Russell Sanchez, Roseta Santiago, Ed Sandoval, Ed Smida and Jim Vogel.

The exhibition is dedicated to the memory of artist Kang Cho, a good friend of the site who passed away in December 2021.

The Lunder Research Center focuses on the Taos Society of Artists (TSA); E. I. Couse and J. H. Sharp were two of the founding members in 1915. "The TSA left a profound artistic and social legacy," said Davison Packard Koenig, executive director and curator at the Site. "Inspired by the light, landscape, culture, and people of Taos valley, these 12 artists shared their skills and resources to achieve together an impact that far outweighs what they could have accomplished as individuals. Their shared vision, of creating a uniquely American art, permanently influenced not only the world of art but also prevailing perceptions of Native America and the West.

"The assembled artists in La Luz de Taos represent a breadth of backgrounds, drawing inspiration from the vast landscape and culturally diverse peoples of Taos and the American West. Together their work presents a contemporary vision of our region, its people, and the nuanced history and traditions imbued in the landscape," Koenig added. "In many ways, the TSA's legacy rests with these artists, to remind us of the beauty that surrounds us and to encourage us to appreciate the richness of culture that makes us stronger as a people and a nation."

Couse-Sharp Historic Site has traditionally held a biennial gala and art auction to support its programs, which became over the years the hottest little art shindig in the West. After having to cancel the event in 2020 and 2021, the organization decided to come back this year bigger and better than ever with a new format: La Luz de Taos, a significant exhibition and sale, plus the roster of entertaining and educational events attendees have come to know and love.

The show can also be seen online at laluzdetaos.org. All work will be sold at fixed price via live draw at the May 21 gala celebration. Those unable to make it to Taos can purchase absentee ballots so you can put your name in the draw to buy your favorites.