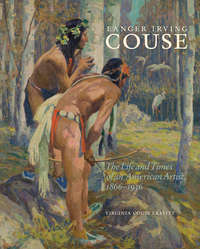 Eanger Irving Couse: The Life and Times of an American Artist, 1866-1936
$60
By Virginia Couse Leavitt
Volume 34 in the Charles M. Russell Center Series on Art and Photography of the American West, University of Oklahoma Press, 2019
Hardcover, 400 pages, 9 X 11
96 B&W and 80 color illustrations
This richly illustrated volume, featuring full-color reproductions of E. I. Couse's artwork, is the first scholarly exploration of Couse's noteworthy life and artistic achievements. Drawing on extensive research, Virginia Couse Leavitt gives an intimate account of Couse's experiences, including his early struggles as an art student in the United States and abroad, his study of Native Americans, his winter home and studio in New York City, and his life in New Mexico after he relocated to Taos. In examining Couse's role as one of the original six founders of the Taos Society of Artists, the author provides new information about the art colony's early meetings, original members, and first exhibitions.
As a scholar of art history, Leavitt has spent decades researching her subject, who also happens to be her grandfather. Her unique access to the Couse family archives has allowed her to mine correspondence, photographs, sketchbooks, and memorabilia, all of which add fresh insight into the American art scene in the early 1900s. Of particular interest is the correspondence of Couse's wife, Virginia Walker, an art student in Paris when the couple first met. Her letters home to her family in Washington State offer a vivid picture of her husband's student life in Paris, where Couse studied under the famous painter William Bouguereau at the Académie Julian.
Whereas many artists of the early twentieth century pursued a radically modern style, Couse held true to his formal academic training throughout his career. He gained renown for his paintings of southwestern landscapes and his respectful portraits of Native peoples. Through his depictions of the domestic and spiritual lives of Pueblo Indians, Couse helped mitigate the prejudices toward Native Americans that persisted during this era.
Virginia Couse Leavitt is the granddaughter of E. I. Couse, a founder of The Couse Foundation, site historian at the Couse-Sharp Historic Site, and author of Eanger Irving Couse: Image Maker for America.

shipping:$7