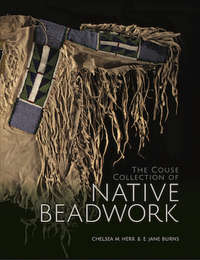 Volume 3 of The Record: The Couse Collection of Native Beadwork
$28
The Couse Collection of Native Beadwork
By Chelsea M. Herr and E. Jane Burns
Photography by Jeff Smith
Published by The Couse Foundation, 2020
Volume Three of The Record
Softcover, 117 pages, 7 x 9
72 color photos, 20 B&W photos and drawings
The Couse Collection of Native Beadwork features stellar scholarship and photography of 65 items in the vibrant collection of Plateau and Plains beadwork acquired by artist E. I. Couse and his wife, Virginia Walker, near her family ranch along the Columbia River and in Taos. It is the third volume in a series of books known as The Record; its companion volumes cover the Couses's santos and pottery collections.
Chelsea Herr (Choctaw), PhD, is the Indigenous Art and Culture at the Gilcrease Museum in Tulsa, OK. During her studies, she worked at CSHS as an intern for two summers. "In the course of writing this book, I found that the most rewarding aspect was seeing how each piece of beadwork brings its own life and history to the table," she said. "It's clear that these items have had long, storied lives, and the more time you spend with them, the more they share with you. This is apparent in the gorgeous photography provided by Jeff Smith—even in a two-dimensional form like a photograph, each beaded item seems to impart a sense of vitality and personality that is not often found in other art forms."
E. Jane Burns, who authored The Couse Collection of Pueblo Pottery in 2017, noted, "Different from many books on Native American beadwork, this look at beadwork items in the Couse Collection emphasizes the important relation between individual beaded objects and the specific lands and people that produced them. It also underscores longstanding networks of cultural exchange fostered by trade, travel, warfare, and intermarriage among tribes," she explains.
According to Virginia Couse Leavitt, the painter's granddaughter and the leading authority on his work, a unique value of the Foundation's publications is as the record of an important artist's private collection. "Couse used items from his collection extensively in his paintings; they tell us much about the times in which he lived and what his tastes and passions were. By featuring the objects apart from the paintings, individual volumes of The Record help reveal what Couse as a visual artist appreciated in other art forms," Couse wrote in the preface.
Executive Director and Curator Davison Koenig offered additional context. "When Anglo artists arrived at the turn of the last century with the goal of creating a uniquely American art form, they forged relationships with Natives from Taos Pueblo who acquainted them with the material culture of Pueblo and Plains traditions. The Couse Collection represents a key moment in time when those early contacts were formed and valued cultural objects began to change hands. The diverse Couse ethnographic collection numbers over 400 items representative of the rich artistic Native traditions of the region and beyond."

shipping:$3