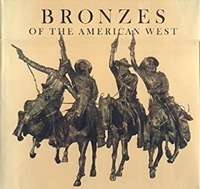 NEW! Bronzes of the American West
$125
Bronzes of the American West
By Patricia Janis Broder
Published by Harry N. Abrams,1975
Condition: New
Hardcover, 431 pages
48 color images, 465 B&W images
"The publication of Bronzes of the American West is a unique event in the annals of Western Americana. For the first time, the whole story of Western bronzes is told -- sumptuously illustrated, fully documented, and with an introduction by the renowned authority on Western Art. Dr. Harold McCracken...."
"...the artists who have immortalized the American frontier experience are represented, ranging from Colonial times to the present day. The spirit of the Old West comes alive in all its excitement in the pages of this book...."
Author and collector Broder "interlaces" biographical and critical insights, exploring the "recurring themes of Western bronze sculpture and the lives of their most famous interpreters."

shipping:$7