Saturday, July 6, 2019
Opening of Taos Pueblo Portraiture: The Photographic Studies of E. I. Couse
3-5 pm | Free admission, donations welcome
Couse-Sharp Historic Site, 146 Kit Carson Road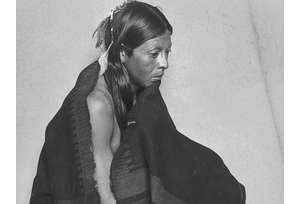 On July 6 Couse-Sharp Historic Site officially opens its seasonal exhibition Taos Pueblo Portraiture:The Photographic Studies of E. I. Couse in the site's 1835 Luna Chapel. Showcasing contact prints made by Couse from his photos of Taos Pueblo models, chosen from the 8,000-plus negatives in The Couse Foundation archive, the resulting stunning images are windows into his artistic process and into the life of Taos people in the early 20th century.

Couse was one of the founders of the Taos Society of Artists (TSA) in 1915. The featured prints are from 1906-1928 and most were taken as studies to use in developing the compositions for his paintings. The exhibit selection represents the quality of these images and provides insight into how the artist used them for his work.
Couse bought his first camera in France in the early 1890s and thereafter used it extensively. He built a darkroom into the corner of his Taos studio, where he processed his films and prints without running water or electricity. Some of the artist's cameras and other equipment are in the exhibition; visitors can see the darkroom itself during the concurrent Couse-Sharp Historic Site open house as well.
The exhibition, which includes 27 contact prints made by Couse himself, six beautiful modern prints, and objects and archival material associated with the photos, will run July 6 through November 2, 2019. Besides the First Saturday 3-5 p.m. open house each month from July through October, the show can be seen during the full docent tour of the historic site. Tours are available by appointment only; click here for more information.