Saturday, July 2, 2022
First Saturday Open House and Artist Gallery Talk
2-5 pm
138 and 146 Kit Carson Road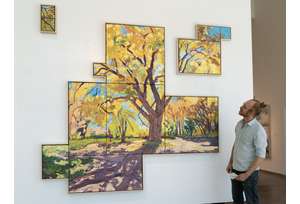 The Couse-Sharp Historic Site invites you to join us for our initial First Saturday Open House of 2022. Featured this month is a talk at 2 p.m. by Jivan Lee about his exhibition The Infinite Landscape in the Dean Porter Gallery of The Lunder Research Center, 138 Kit Carson Road.
After the talk, come next door to the historic site for the open-house style tour beginning at 3 p.m. Tour the historic studios of E.I. Couse and J.H. Sharp, two of the founders of the Taos Society of Artists (TSA), and enjoy a delightful stroll through Virginia Couse's vintage garden. The site will be open until 5 p.m.
Docents will be present in every room providing in-depth knowledge of the E. I. Couse House and Studio, as well as the restored Sharp Studio and the exhibition J. H. Sharp Studio: The Life and Work of an American Legend.
During the same hours The Infinite Landscape featuring the work of Jivan Lee will be open next door.
Open to the public, free admission; donations encouraged. Free parking available a half block east in the municipal lot on Kit Carson Road. Please note: Because of the site's nature as a place of historic preservation, buildings and grounds are not ADA accessible.