Saturday, June 10 - Thursday, November 30, 2023
Aún Aquí: Spanish Colonial Contemporary
see open hours below
Luna Chapel, Couse-Sharp Historic Site, 146 Kit Carson Rd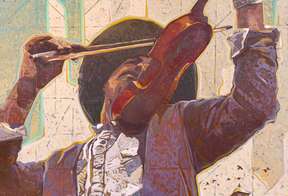 OPEN HOURS:
Fri Sep 29 — 1-3 pm
Sat Sep 30 — 1-3 pm
Fri Oct 06 — 1-3 pm
Sat Oct 07 — 1-5 pm
Fri Oct 13 — 1-3 pm
Sat Oct 14 — 1-3 pm
During docent-led site tours
By appointment (email admin@couse-sharp.org or call 575-751-0369)
First Saturday open house (3-5 pm October 7)
Open times may be added as we have volunteers available
Couse-Sharp Historic Site is pleased to invite you to its first exhibition highlighting northern New Mexican artists working in the Spanish Colonial tradition, titled Aún Aquí: Spanish Colonial Contemporary. The exhibition name translates to "Still Here." Including decorative and fine arts such as textiles, furniture, woodcarving, santos, metalwork, and painting, the exhibition also features historic work by J. H. Sharp.

The exhibition is installed in the 1830s Luna Family Chapel, Sharp's first Taos studio. He dubbed it "the studio of the copper bell" in honor of the Spanish Colonial rough-cast bronze bell (acquired at Taos Pueblo) that hangs above the entrance. All contemporary work in the exhibition will be for sale.

"Our programming has for the past half dozen years largely reflected Couse's and Sharp's focus on Indigenous culture. With the advent of The Lunder Research Center for the Taos Society of Artists, we are now expanding our story and programming to include the local Hispano culture and community," explained Davison Packard Koenig, CSHS executive director and curator. "We aim for this exhibition to build bridges toward that inclusion."

Featured artists include Daniel Barela, Luis Barela, Patrociño Barela, Lorrie Garcia, Victor Goler, Nick Herrera, Arthur Lopez, Bernadette Pino, Eric Romero, Ernesto Salazar, Michael Vargas (santos); Andrew Garcia, Don Kelsen, Roberto Lavadie (furniture); Jim and Christen Vogel (cabinet incorporating painting); Larry Martinez, Rick Montaño, Racheal Montoya (jewelry); Brian Anderson, Tom Irvin, Nicolas Madrid (metalwork); S. M. Chavez, Brandon Maldonado, Ed Sandoval, J. H. Sharp (paintings); Carla Bogdanoff, Andrew Ortega, Don Sandoval (textiles).

Sharp's still life A Prehistoric Bowl—Excavated Near the Pueblo of Zuni, New Mexico, has been borrowed from a private collector for the exhibition, along with the Spanish Colonial trunk depicted in it. The trunk is purported to have been owned by New Mexico Territory Gov. Charles Bent, killed during the Taos Revolt in 1847.

The Couse Home includes another bridge to the Hispano community: the family's significant collection of santos and Spanish Colonial furniture. Santos are depictions of Roman Catholic saints, and sometimes other figures considered holy, in either carved form (bultos) or in small panel paintings (retablos). The Couses collected dozens of santos during their residence in Taos, along with chairs, trunks, and other furnishings, which are exhibited in the house's living room, commonly known as the sala.

The exhibition explores the cultural history of the "Kingdom of New Mexico," an area first claimed for the Spanish Crown by the conquistador Francisco Vázquez de Coronado in 1540 while he searched for the fabled "Cities of Gold." However, it would not be until 1615 that Taos, at the northern edge of New Spain's control, would be established as a Spanish village with an alcade (mayor). At the same time, Franciscan friar Francisco de Zamora was sent to Taos Pueblo to spread the Catholic faith in the valley. Besides introducing new plants and animals that would forever change the landscape and economy, the Spanish brought with them vibrant artistic traditions and a fervent faith in Jesus and the Blessed Virgin Mary.

"As bloodlines and cultures merged over time and Spain withdrew from the 'New World,' these rich Spanish, or Hispano, traditions would develop their own distinct character on the northern frontier between New Spain and the Indigenous world," Koenig noted.

The artists in this exhibition draw from this cultural continuum, reaching from Spain and North Africa to Mesoamerica and New Spain, and eventually New Mexico. Working in a variety of media, these artists demonstrate a commitment to ensure this rich cultural legacy will continue to thrive and evolve, evoking the title: Aún aquí, still here.