Gala / 2017 Gala
Couse-Sharp Gala Weekend is June 10-11, 2017
Saturday, June 10, 10am | Lecture by Peter Hassrick, Director Emeritus and Senior Scholar, Buffalo Bill Center of the West, on The Studios of Joseph Henry Sharp presented in collaboration with The Harwood Museum of Art, 238 Ledoux Street | Purchase advance tickets through The Harwood Museum | 575.758.9826 | Mon-Fri 10am - 5pm Sat-Sun 12pm-5pm or at the time of the lecture ($10 - $8 members)
Saturday, June 10, 5pm | The Couse Foundation Biennial Gala Fundraiser & Art Auction
Join us for an elegant evening at El Monte Sagrado Resort, including wine and hors d'oeuvres reception, live auction and carefully curated silent auction, followed by a gourmet dinner. Afterwards enjoy live music and dancing on the patio. The auctions feature an impressive selection of artists including; Tony Abeyta, Clyde Aspevig, Maura Allen, Arturo Chavez, Josh Elliott, Victor Goler, Logan Maxwell Hagege, Ben Pease, Kevin Red Star, Ed Smida, and many others. There will also be fabulous trips, historic works of art, prints, Jewelry, contemporary native pottery and even a Crow teepee. We are fortunate to have Alissa Ford from Heritage Auctions as our auctioneer. Due to overwhelming and gratifying response, we are now sold out of 2017 Gala tickets.
Preview live auction artwork online.
Preview silent auction artwork online.
Thayer Carter | "Artist Palette" | Exclusive Limited Edition Woodcut | A tour of Couse's studio at the site resulted in an image to represent the era of the Taos Society of Artists and the popular practice of plein air painting | available for purchase at the Gala
Gala Sponsors | Heritage Hotels | Robert L. Parsons Fine Art
Participating Lodging Partners | Mention The Couse Foundation when making reservations directly with each hotel.
• The Blake Hotel at Taos Ski Valley | 1.888.569.1756 | event shuttle service available
• Casa Benavides | 1.575.758.1772
• El Monte Sagrado | 1.855.846.8267
• Palacio de Marquesa | 1.855.846.8267
• Taos Inn | 1.800.826.7466
Sunday June 11, 3-5pm | J.H. Sharp 1915 Studio Grand Opening
The Life and Work of an American Legend | an exhibit featuring paintings, personal ephemera, correspondence, and a selection of Native American artifacts collected by Joseph Henry Sharp
For more information, please email admin@couse-sharp.org or call (575) 751-0369.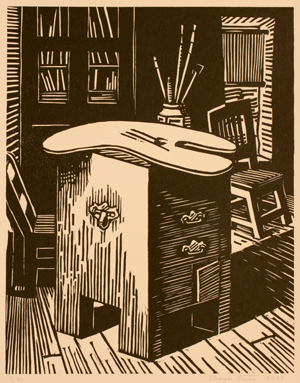 Thayer Carter, Artist Palette, Limited Edition Woodcut