Gala 2019

SIXTH BIENNIAL COUSE FOUNDATION
GALA & ART AUCTION
5 PM JUNE 15, 2019 | TAOS, NEW MEXICO



Thank you to all the gala attendees, participating auction artists, board members, and volunteers that made our gala a fantastic success. More than 200 guests enjoyed an elegant evening at El Monte Sagrado Resort in Taos, including cocktail reception, silent auction, live auction, dinner in a tent on the lawn, and musical entertainment and dancing.
We look forward to our Seventh Biennial Gala on Saturday, June 12, 2021!
We were fortunate to again welcome Alissa Ford from Heritage Auctions as our auctioneer for an impressive selection of Western and regional art, both historic and contemporary.
Represented artists:
- William Acheff (painting) - E. Martin Hennings (print)
- Jozef Bakos (painting) - Marie Romero Cash (altar screen)
- Randy LaGro (painting) - Cara Romero (photograph)
- Kang Cho (painting) - Sheldon Harvey (wood sculpture)
- Glenn Dean (painting) - Ira Lujan & Kacey Jones (glass sculpture)
- Logan Maxwell Hagege (painting) - Brett Allen Johnson (painting)
- Jerry Jordan (painting) - Gene Kloss (watercolor)
- Barbara Latham (painting) - Jivan Lee (painting)
- Nicholas Coleman (painting) - Donald Barton (painting)
- Ed Smida (bronze sculpture)
See live auction art images here.
Silent Auction
Included carefully curated items such as smaller paintings, prints, gift certificates, books, Native pottery, and more.
Represented artists:
- O.E. Berninghaus (paper bas-relief) - Derek No-Sun Brown (drawing)
- Arturo Chavez (painting) - Geoffrey Lasko (lithograph)
- Angie Coleman (woodblock print) - Earl Stroh (lithograph)
- Medicine Man Gallery (book) - Jeremy Landau (photograph)
- Gene Kloss (intaglio) - Phil Epp (painting)
- Dustin Leavitt (mixed media) - McTague Appraisers (appraisal gift certificate)
- Jocelyn Martinez (scratchboard) - Jody Naranjo (Pueblo pottery)
- Dean Porter (watercolor) - C. S. Talley (painting)
- Historic Pueblo pottery - Aaron Garlick (portrait gift certificate)
- Carla Bogdanoff (weaving) - Barbara Sparks (photograph & book)
- Chloe Gaillard (painting) - Edward S. Curtis (two photo prints)
- Armond Lara (watercolor study)
See silent auction art images here.
Custom Cowboy Hardhats
A special silent auction feature this year was an array of cowboy-hat-style hardhats decorated on commission by Derek No-Sun Brown, John Farnsworth, Susan Folwell, Chloe Gaillard, Jerry Jordan, and Ed Sandoval.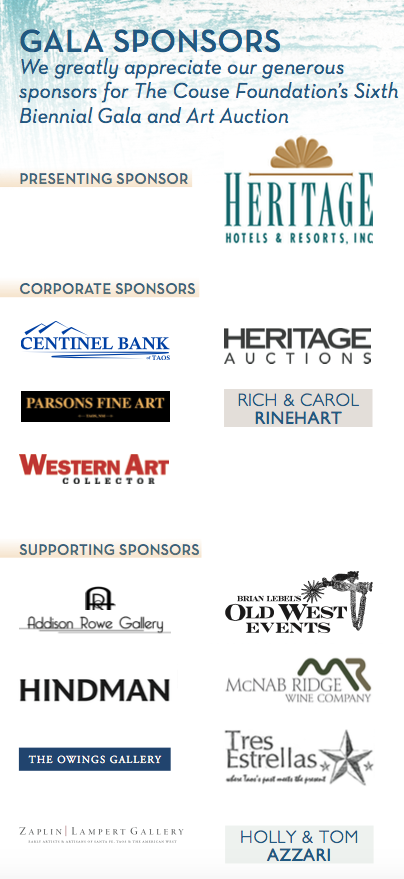 Other Events
Throughout Gala weekend, visitors enjoyed other exciting events:
• Friday, June 14, 5-7 p.m. – Wine and hors d'oeuvres reception with "hardhat tours" of our future museum facility that includes The Lunder Research Center. Book signing events with scholars of the Taos Society of Artists. Opening of temporary exhibition Joseph Henry Sharp's Montana in the 1915 Sharp Studio.
• Saturday, June 15, 10-11 a.m. – "So me for the North and snow!": Joseph Henry Sharp's Montana. Lecture by Dr. Marie Watkins at the Harwood Museum of Art.
• Sunday, June 16, 11 a.m.-1 p.m. – Special CSHS open house with book launch of Eanger Irving Couse: The Life and Times of an American Artist, 1866-1936, the definitive biography of Couse by his granddaughter Virginia Couse Leavitt; sneak preview of temporary exhibition Taos Pueblo Portraiture: The Photographic Studies of E. I. Couse in the site's 1835 Luna Chapel, and the permanent rotating exhibition J. H. Sharp: The Life and Work of an American Legend, refreshed this season with artwork, ephemera, and objects from his personal collection.
Proceeds from all events benefited The Couse Foundation and Couse-Sharp Historic Site.
For more information, contact admin@couse-sharp.org or call 575-751-0369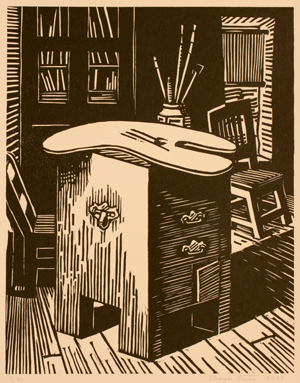 Thayer Carter, Artist Palette, Limited Edition Woodcut