See where the Taos Society of Artists began: Couse-Sharp Historic Site
Our 2+ acre campus in the heart of Taos' central historic district features the former homes and studios of E. I. Couse and J. H. Sharp, two of the American-born, European-trained artists who formed the TSA in 1915.
Visitors are astonished that such a well-preserved—and charming—complex of period buildings, gardens, furnishings, and associated art collections still exists. Engineering enthusiasts can see a 1936 laboratory and machine shop plus a Kibbey Couse-invented mobile machine shop used in World War II. Our latest addition is The Lunder Research Center, a beautiful state-of-the-art research and museum facility dedicated to the early Taos art colony and the TSA.
We invite you to peruse our website to get a feel for the amazing range of history, culture, architecture, science, and art at the Couse-Sharp Historic Site.
Our Statement of Purpose
Through its archives, collections, and programming, the Couse-Sharp Historic Site preserves and interprets Taos' crossroads of cultures, promoting and facilitating research, education, new perspectives on the Taos Society of Artists, early artists of Taos, and regional and Indigenous communities in relation to the greater story of the multicultural American West.
Couse-Sharp Historic Site is closed for the following holidays: New Year's Eve, New Year's Day, President's Day, Memorial Day, US Independence Day, Labor Day, Indigenous People's Day, Thanksgiving Day weekend, Christmas Eve and Christmas Day. Check our homepage for additional periodic closures, such as for our biennial gala and similar events.
News and Information
Couse-Sharp Historic Site is thrilled to be hosting the 2023 annual exhibition of the Plein Air Painters of America (PAPA), titled Out West. The genre of the American West is currently thriving, and the association's members are excited to partake in the theme. With breadth in style and vision, PAPA have produced a visually stunning show, illustrating the depth of inspiration the West, and Southwest, provides to so many artists.
The exhibition is in the Dean Porter Gallery of The Lunder Research Center at Couse Sharp Historic Site from September 29, 2023, through January 20, 2024. Admission is free, and all artwork is for sale. PAPA and CSHS are grateful for exhibition support from Western Art Collector magazine and International Artist Publishing.
The artwork can also be seen on our website -- click here to view the online Exhibition Gallery.
Select PAPA members will be painting Taos Valley October 2–7, culminating in plein air demonstrations with a "wet paint" sale and exhibition on the Sharp Portal of The Lunder Research Center. The demos and sale will happen Saturday, October 7, from 12 to 5 p.m. Attendees can also partake in an open house at the historic site from 3 to 5 p.m.
Visit our exhibition page to learn more about PAPA: Out West
Our current seasonal exhibition in the Luna Chapel is Aún Aquí: Spanish Colonial Contemporary. Click on the exhibition name for more information and open hours. Work in the exhibition is for sale.
We are currently taking appointments for our 2-hour historic site tours. Find out all the details of booking on our Tours page
The only research center and museum facility dedicated to early Taos art and the Taos Society of Artists is now open: The Lunder Research Center. To access our catalogs, visit LunderResearchCenter.omeka.net. Access to the "brick and mortar" library and archives by appointment only, Tuesdays through Saturdays exclusive of holidays. To learn more about the LRC, click here.
Two of our previous exhibitions can be viewed online: GlimpsesofthePast.org, StitchedinSovereignty.orgSee our latest video lectures on our YouTube channel: Virtual Road Trip to Couse-Sharp Historic Site, The Artistic Import of Taos: 1900–1950 by Executive Director & Curator Davison Koenig, and PARDS: The Taos Society of Artists by Michael Grauer, National Cowboy & Western Heritage Museum
If you prefer the podcast format, check out the interview with ED Davison Koenig on the American Art Collective.
The E. I. Couse Original Contact Print Collection has been digitized thanks to a National Endowment for the Humanities grant and is now accessible online through New Mexico Digital Collections.
Upcoming Events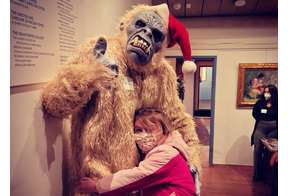 Holiday Reception | Kit Carson Road Holiday Celebration
Saturday, December 16, 2023, 3-6:30 pm
all events »