See where the Taos Society of Artists began: Couse-Sharp Historic Site
Our 2+ acre campus in the heart of Taos' central historic district features the former homes and studios of E. I. Couse and J. H. Sharp, two of the American-born, European-trained artists who formed the TSA in 1915.
Visitors are astonished that such a well-preserved—and charming—complex of period buildings, gardens, furnishings, and associated art collections still exists. Engineering enthusiasts can see a 1936 laboratory and machine shop plus a Kibbey Couse-invented mobile machine shop used in World War II. Our latest addition is The Lunder Research Center, a beautiful state-of-the-art research and museum facility dedicated to the early Taos art colony and the TSA.
We invite you to peruse our website to get a feel for the amazing range of history, culture, architecture, science, and art at the Couse-Sharp Historic Site.
News and Information
The only research center and museum facility dedicated to the early Taos art colony and the Taos Society of Artists is now open: The Lunder Research Center. To access our catalogs, visit LunderResearchCenter.omeka.net. Access to the "brick and mortar" library and archives by appointment only, Tuesdays through Saturdays exclusive of holidays. To learn more about the LRC, click here.
Couse-Sharp Historic Site resides on the ancestral homelands of Taos Pueblo. Currently, we also recognize and celebrate November as Native American Heritage Month. To learn more about issues of physical and cultural sovereignty in the Native and First Nations communities, we invite you to the online presence of our 2020 exhibition Stitiched in Sovereignty: Contemporary Beadwork from Indigenous North America. From there you can access several YouTube videos on our channel featuring discussions with the beadwork artists and guest curator.
Jivan Lee's The Infinite Landscape exhibition is on view at The Lunder Research Center through Jan. 13. The gallery will be closed Dec. 23-26, and Dec. 31-Jan. 2.
Some of our previous exhibitions can be viewed online: LaLuzdeTaos.org, GlimpsesofthePast.org, StitchedinSovereignty.org
We are currently taking appointments for our 2-hour historic site tours. Find out all the details of booking on our Tours page
See our latest lectures on our YouTube channel: The Artistic Import of Taos: 1900–1950 by Executive Director & Curator Davison Koenig, and PARDS: The Taos Society of Artists by Michael Grauer, National Cowboy & Western Heritage Museum
The E. I. Couse Original Contact Print Collection has been digitized thanks to a National Endowment for the Humanities grant and is now accessible online through New Mexico Digital Collections
We are fully complying with public health guidelines. Currently, we suggest masks indoors and are limiting the number of people at indoor events. We continue to monitor regulations and official guidance and will amend our protocols as warranted. Thank you for your cooperation in New Mexico's public health efforts.
Upcoming Events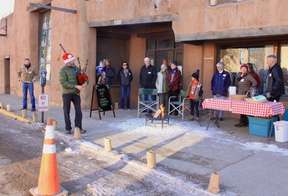 Mini Holiday Reception | Kit Carson Road Holiday Celebration
Saturday, December 17, 2022, 3-6:30pm
all events »