Saturday, June 3 - Wednesday, September 20, 2023
Reflections: Taos Pueblo and the Photography of E. I. Couse
Tuesdays through Saturdays 1-5 pm
Dean Porter Gallery, Lunder Research Center at Couse-Sharp Historic Site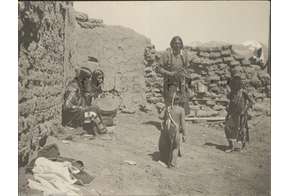 CSHS will be mounting an exhibition of artistic responses from contemporary Taos Pueblo residents to E. I. Couse's photography. Couse produced roughly 10,000 photographs during his lifetime, 1866-1937, of which approximately 6,000 represent the people of Taos Pueblo. The vast majority of the images are model studies for potential paintings. The work, in a variety of media from painting to pottery, will be for sale.
"Earlier this year, we invited artists from Taos Pueblo to review the collection with the goal of creating work that is inspired by or a response to the imagery," said Davison Packard Koenig, CSHS executive director and curator. "We hosted an artist's roundtable discussion that was fascinating and productive for all, and provided links to the photographs online for artists to explore."

The opening celebration for this exhibition will take place June 10 2-5 pm in conjunction with a site-wide open house.