Saturday, August 7, 2021
First Saturday Open House | Glimpses of the Past exhibition
3-5 pm
Couse-Sharp Historic Site, 146 Kit Carson Road, Taos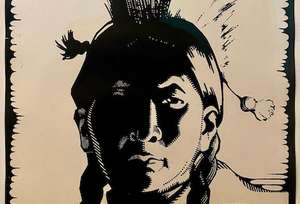 Join us for our First Saturday Open House 3-5 pm. Docents will be present in every room providing in-depth knowledge of the E.I. Couse home and studio, the Virginia Walker Couse Heritage Garden, Kibbey Couse's machine shop, and the J.H. Sharp 1915 Studio and exhibition of his work, collections, and ephemera.
During the open house you can view Glimpses of the Past: Historic New Mexico Prints 1880-1950 in the 1830s Luna Family Chapel. It is a significant exhibition of graphic media focusing on northern New Mexico, most never before seen by the public. The exhibition is available by appointment and on many Saturdays through November 6, 2021.
We are fully complying with public health guidelines. As of August 1, 2021, everyone must wear masks indoors on the property. We continue to monitor regulations and official guidance and will amend our protocols as warranted. Click here to see the full protocol. Thank you for your cooperation in New Mexico's public health efforts.