Saturday, July 1, 2017
Book Signing: "The Couse Collection of Pueblo Pottery" by E. Jane Burns
3:30-5pm
Luna Chapel | Couse-Sharp Historic Site | 146 Kit Carson Rd, Taos, NM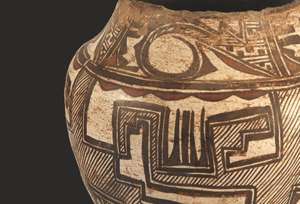 July 1, the Couse-Sharp Historic Site will host a free talk and book signing by E. Jane Burns, author of a book just published by the Couse Foundation. Her informal talk, "Adventures in the Archives: The Process of Researching and Writing The Couse Collection of Pueblo Pottery" will begin at 3:30 p.m. and will be followed by a question and answer session.
The book, which will be available for sale at the event, provides a unique view of the pottery collected by Couse, founding member of the Taos Society of Artists, many of which appear in his paintings. The author's talk will chronicle her two-year journey of research and writing.
Full-page color photos with informative captions detail more than 70 of the largest pots in the Collection, many of which are also shown in previously unpublished photo studies made by Couse. The photo studies document the artist's abiding interest in the creative processes of Pueblo pottery and show how Couse staged Native pottery making in his paintings. The book also shows Pueblo Pottery and Tesuque tiles incorporated into the architecture of the house. A complete inventory of all pots in the collection, including smaller pieces and miniatures, is included.