Saturday, June 2, 2018
First Saturday Open House | Artist Presentation with Patricia Michaels
3-5 pm | Free admission, donations welcome
146 Kit Carson Road, Couse-Sharp Historic Site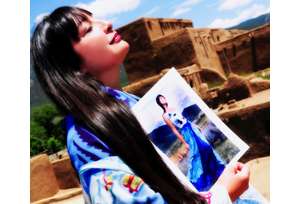 The Couse-Sharp Historic Site invites you to join us for our initial First Saturday Open House of the 2018 season on June 2 from 3 to 5 p.m.

At 3:30, we will host a presentation and mini fashion show with Taos Pueblo designer Patricia Michaels. She is one of a dozen Taos Pueblo artists who will be featured in our upcoming exhibition Full Circle: Taos Pueblo Contemporary, which opens July 7. Patricia will show some of her design and fashion work and speak about her process and inspirations, including the Taos Society of Artists (TSA). "Gazing as a child at the paintings of the Taos Society of Artists expanded my worldview and inspired a higher range of appreciation for art and my Native heritage," Michaels said.

During the open house, tour the studios of E. I. Couse and J. H. Sharp, two of the founders of the TSA, and enjoy a delightful stroll through Virginia Couse's historic garden. Docents will be present in every room providing in-depth knowledge of the E. I. Couse home and studio, the Kibbey Couse laboratory and machine shop, and the exhibition J. H. Sharp: The Life and Work of an American Legend in the recently restored 1915 Sharp Studio.

Free parking is available in the public lot at the bottom of the hill about a half block east on Kit Carson Road.