Saturday, July 7, 2018
Exhibition Opening | Full Circle: Taos Pueblo Contemporary
3-5 pm | Free admission, donations welcome
Couse-Sharp Historic Site Luna Chapel, 146 Kit Carson Road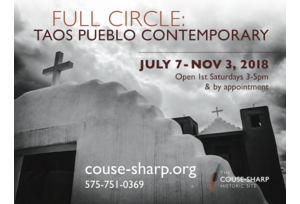 Join us for the opening of this season's Luna Chapel exhibition, Full Circle: Taos Pueblo Contemporary. The show runs July 7-Nov 3 and the opening coincides with our First Saturday Open House and a 3:30 glass-blowing demonstration by artist Ira Lujan.

The artists of the Taos Society of Artists were inspired by the art and culture of Taos Pueblo. The Society was formed for "educational purposes, to promote and stimulate the practical expressions of art—to preserve and promote the native art." Many of the TSA artists developed lifelong friendships and even familial bonds with their Native models, who included Looking Elk, Hunting Son, Star Road, Elk Duststorm, Rain Coming Down, and Elkfoot to name just a few. TSA artists became strong advocates for Native rights and sovereignty.

The exhibition Full Circle honors those relationships and the many artists from Taos Pueblo who continue to redefine Native art and identity, including:
Joseph Concha, Paintings
Causandra & Michael Dukepoo, Jewelry
Sean Flanagan Rising Sun, Sculpture
Debbie Lujan, Photography
Ira Lujan, Glass (demo July 7)
Jocelyn Martinez, Paintings
Patricia Michaels, Fashion Design
Edna Romero, Pottery
Ken Romero, Jewelry
Maria Samora, Jewelry
Yellowbird Samora, Pottery
Dawning Pollen Shorty, Sculpture
Sonny Spruce, Jewelry
John Suazo, Sculpture
Ryan Suazo, Mixed Media
Jonathan Warm Day Coming, Paintings (demo Sept. 1)
Angie Yazzie, Pottery
The exhibition in diverse media in the Site's 1835 Luna Chapel will have all exhibited items for sale.