Tuesday, August 7, 2018
My Full Circle Summer: Taos from a Native art history student's perspective
5:30 pm
Couse-Sharp Historic Site, 146 Kit Carson Road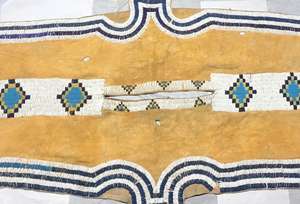 Alicia Harris will present a review of her three-month internship with The Couse Foundation, including her co-curation of Full Circle: Taos Pueblo Contemporary and her work in the collections at the Couse-Sharp Historic Site, including significant Native textiles. Her talk will also include a guest appearance by former intern Chelsea Herr, who will speak about her upcoming book project on the beadwork in the collections.
Alicia Harris (Assiniboine) is a Ph.D candidate in Native American Art History at the University of Oklahoma's School of Visual Arts. She is the Robert S. and Grayce B. Kerr Fellow at the Charles M. Russell Center for the Study of the Art of The American West. Her dissertation will concern indigenous "land art" in both ancestral and modern contexts.
The talk will take place in the 1915 Sharp Studio on the west side of the property. Follow the signs from the main entrance to the site at 146 Kit Carson Road. Plenty of free parking is available a half block east of the Site on Kit Carson.