Saturday, August 3, 2019
First Saturday Open House | Artist Demo with C.S. Talley in Sharp's Montana exhibition
3-5 pm | Free admission, donations welcome
Couse-Sharp Historic Site, 146 Kit Carson Road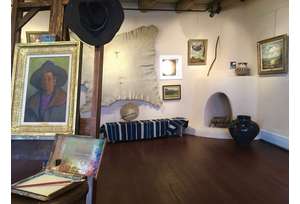 J. H. Sharp, one of the founders of the Taos Society of Artists, also painted extensively in Montana, living there during fall and wintertime between 1903 and 1910. This season's Sharp focus for the Couse-Sharp Historic Site is on the work of those years.

On August 3, the exhibition Joseph Henry Sharp's Montana will be open from 3 to 5 pm and feature a painting demonstration by Taos artist C. S. Talley, who will paint at Sharp's easel while impersonating the historic artist. Also on the tour will be Little Egypt, a gem of an adobe outhouse remodeled after Sharp's visit to the country in 1915.

"The artworks and objects in this exhibition are on loan from private collectors and museums," said Davison Packard Koenig, executive director and curator. "Some are being publicly exhibited for the first time, others for the first time in many years." Besides finished paintings, the exhibition includes studies, sketches, photos taken by Sharp, Native beadwork, letters, his folding painting stool and other items.
A permanent rotating exhibition of artwork, ephemera and collections chronicling the life and work of J. H. Sharp is continually on display in the Taos studio he used for almost 40 years, now fully restored.

Open house guests will also tour the entire historic site and the temporary exhibition Taos Pueblo Portraiture: The Photographic Studies of E. I. Couse in the site's 1830s Luna Chapel. Docents in every room provide in-depth information on E. I. Couse home and studio, Virginia Couse Heritage Garden, Kibbey Couse lab and machine shop, and the 1915 Sharp Studio.

The temporary show dovetails with a book release. The Life and Art of Joseph Henry Sharp "offers fresh perspectives on who Sharp was, how and where he was trained as a painter, why he selected the nation's western Native population as a primary subject, what impact his imagery had on audiences across the continent, and how his production as a painter of what he referred to as the 'real Americans' differed from that of his contemporary peers."

The volume, edited by Peter Hassrick, was published by Whitney Western Art Museum at the Buffalo Bill Center of the West in association with The Lunder Research Center at the Couse-Sharp Historic Site. It boasts essays by Hassrick, Watkins, Sarah Boeme, and Kelin Michael. In addition, the Buffalo Bill Center has produced an online catalogue of some 700 examples of the artist's paintings held in public collections.

J. H. Sharp made his first trip to Montana in 1899, where he was captivated by the customs of the Plains tribes, and camped at the Little Big Horn battlefield where he painted a series of portraits of the pathos writ on the faces of the warriors. In 1901, the Smithsonian Institution purchased 11 of the portraits for their ethnographic collection, a significant endorsement for the young artist.

The following year, Phoebe Hearst encountered Sharp's Indian portraits at the Pan-American Exposition in Buffalo, New York. She was so impressed with the exhibition that she purchased it in its entirety along with the contents of Sharp's Cincinnati studio. Mrs. Hearst's patronage enabled Sharp to resign his teaching position at the Cincinnati Art Academy and devote himself entirely to his work in the American West.

In 1903, Sharp and his wife, Addie, moved to Crow Agency, MT. With the help of the U.S. Indian Agent, Samuel Reynolds, they built a log cabin, called "Absarokee Hut," and moved into it in 1905. The cabin was decorated in Arts & Crafts style furnishings, including Roycroft furniture that he traded for paintings. They also filled the cabin with Henry's quickly growing collection of Native American artifacts, Navajo rugs, beadwork, pottery and baskets.

During this period, the couple established a pattern that would continue until 1910—spending the summer and spring in Taos, and fall and winter in Montana. During the relatively quiet winters in Montana, Sharp was able to find willing models, and became enamored of capturing the subtleties of the winter landscape. He wrote: "At this season of the year [winter], the Indians [at Crow Agency] have more time for posing – and the snowy landscape, sage brush foothills, and winter foliage along the Little Big Horn River are more paintable."