Saturday, July 1 - Saturday, October 28, 2017
Seldom Seen: Archival Stories
Open 3-5 pm 1st Saturday of each month and by appointment
Couse-Sharp Historic Site Luna Chapel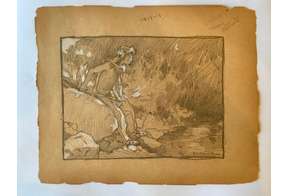 An exhibition illustrating the important role archives play in the research and interpretation of the Taos Society of Artists (TSA). The Exhibition demonstrates how sometimes seemingly insignificant objects and materials have the ability to tell profound stories. The exhibition also highlights the recently donated or promised archival materials and artwork of the TSA. The exhibition will run through October 28, 2017.
Saturday July 1, 3-5PM Exhibition Opening & Open House
As the Couse Foundation embarks on a capital campaign to fund the building of an Archive and Research facility for the TSA at the Couse-Sharp Historic Site, the exhibition will help raise awareness and understanding of the importance of archives in our understanding of these American visionaries. When completed, the archive facility will be open year-round and will provide the resources for students and scholars to interpret the history of one of the most important artist colonies in the history of the United States.
Pictured: Sketch for E. I. Couse painting Sunlight/Sunshine