Saturday, June 6 - Saturday, October 31, 2020
Joseph Henry Sharp's Montana
Open 3-5 pm 1st Saturday of each month and by appointment
Couse-Sharp Historic Site, Sharp's 1915 Studio, 146 Kit Carson Road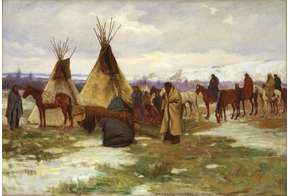 J. H. Sharp, one of the founders of the Taos Society of Artists, also painted extensively in Montana, living there during fall and wintertime between 1903 and 1910. This season's Sharp focus for the Couse-Sharp Historic Site will be on the work of those years.
"The artworks and objects are on loan from private collectors and museums," said Davison Packard Koenig, executive director and curator. "Some are being publicly exhibited for the first time, others for the first time in many years." Besides finished paintings, the exhibition includes studies, sketches, photos taken by Sharp, Native beadwork, letters, his folding painting stool and other items.
A permanent rotating exhibition of artwork, ephemera and collections chronicling the life and work of J. H. Sharp is continually on display in the Taos studio he used from 1915-1953, now fully restored.
The exhibition also celebrates the July 2019 release of The Life and Art of Joseph Henry Sharp, which "offers fresh perspectives on who Sharp was, how and where he was trained as a painter, why he selected the nation's western Native population as a primary subject, what impact his imagery had on audiences across the continent, and how his production as a painter of what he referred to as the 'real Americans' differed from that of his contemporary peers."
The volume, edited by the late Peter Hassrick, was published by Whitney Western Art Museum at the Buffalo Bill Center of the West in association with The Lunder Research Center at the Couse-Sharp Historic Site. It boasts essays by Hassrick, Marie Watkins, Sarah Boeme, and Kelin Michael. In addition, the Buffalo Bill Center has produced an online catalogue of some 700 examples of the artist's paintings held in public collections.
The Montana exhibition runs June 6 - Oct. 31, 2020, at the Couse-Sharp Historic Site, 146 Kit Carson Road in Taos. Besides the First Saturday 3-5 p.m. open house each month from June through October, the show can be seen during the full docent tour of the historic site. Tours are available by appointment only; click here for more information.