Friday, June 3, 2022 - Friday, January 13, 2023
The Infinite Landscape, Jivan Lee
1-5 pm Tues-Sat; see exceptions below
LRC, Couse-Sharp Historic Site, 138 Kit Carson Rd, Taos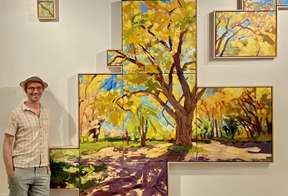 Jivan Lee on his exhibition The Infinite Landscape, currently on view in the Dean Porter Gallery of the Lunder Research Center:
"Landscapes are too huge to see fully and too changeable to ever know finally," says Taos painter Jivan Lee. "Our experience of them is always partial and uneven – deep in some places and nearly absent in others, moved by weather and light and drama, defined and filtered by what we bring to it. Yet as the landscape changes, so too does our understanding of it, expanding in relation to the ebbs and flows of what we notice."
Set amidst this constant flux, the work in The Infinite Landscape explores how artifacts of our attention and the dynamics of weather and light coincide to shape what we see. Every piece in the exhibit was made predominately outdoors and grew out of each day's happenstance. As weather and attention developed, so too did the pieces, adding panels and rising up with towering clouds, stretching outward with cottonwood limbs, or skipping and blinking along a snowy treeline like frames in a film.
In so doing, the pieces act as records of immersion in the landscape, akin to maps of the experience of being in a place on a given day. Hopefully they speak to the fallible, incomplete, and changeable nature of human perception – to the biases and omissions, the frames that limit what we perceive – as well as to the value of an ongoing dialogue with the places that we inhabit.
Open 1 to 5 p.m. Tuesday through Saturday except
Dec 23-26
Dec 31-Jan 2