Thursday, August 18 - Wednesday, November 30, 2022
Academies: Life Drawings by Early Taos Masters
open during tours and open houses
Luna Chapel, Couse-Sharp Historic Site, 146 Kit Carson Road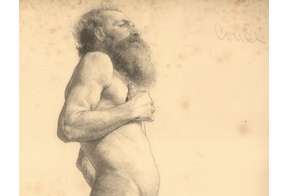 Figure studies from life, or "academies," were the basis of the traditional academic program for painters, since it was believed that mastery of the human figure provided the basis for mastery over all objects in the visual environment.
The four E. I. Couse academies in this exhibition were created ca. 1890–1891 while he was a student at the Académie Julian.
Walter Ufer studied at the Royal Academy in Dresden but moved in 1899 to Chicago, where he continued his studies at the Art Institute. One of the exhibited drawings is signed "l.l. Walter Ufer, Chicago," and it is likely the others were also created at that time.
Models searching for employment gathered at the academy every Monday. Typically, the model's pose lasted all week, eight hours a day, with ten-minute breaks every forty to fifty minutes and an hour off at noon. The student was not required to spend a specific amount of time in school, but long hours were need to complete a successful academy by the time the master came to critique.
William Rothenstein described the method used in Paris in the late 19th century at Académie Julian, in the atelier of Lefebvre and Constant: "We drew with charcoal on Ingres paper; the system in vogue was to divide the figure into four parts, measuring with charcoal held at arm's length, and using a plumb line to get the figure standing well on its feet."
Planning so that the figure would fill the paper or canvas, the student lightly drew in the outline of the total pose, which could be corrected later if necessary. Next he began to build up the gradations of light and shadow that determined the modeling, taking account of the masses first and then finishing the details.