Friday, January 27 - Saturday, May 13, 2023
Etched in Memory: Gene Kloss' Taos
1 - 5 pm Tuesdays through Saturdays
Lunder Research Center, 138 Kit Carson Rd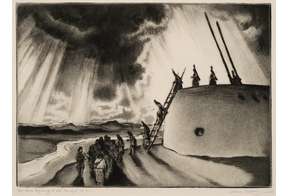 Alice Geneva "Gene" Kloss first arrived in Taos in 1925 while on her honeymoon, traveling the Southwest with her new husband, Phillips Kloss, and her 60-pound etching press. This trip would mark a decisive point of Kloss' life and artistic career. The beauty and power of New Mexico captured her heart and eye. Looking back on this time, Gene later wrote: "I was a New Mexican from then on." Born in Oakland, California, in 1903, Kloss attended the University of California, Berkeley, where she studied with Perham Nahl. Amazed by the first print she pulled from the press, Nahl predicted she would be an etcher. Kloss spent two more years of study at the California School of Fine Arts in San Francisco and the California College of the Arts in Oakland.

Kloss worked predominantly in three media—etching, oil, and watercolor—but is best known for her prints of New Mexico. The body of her works has a consistent harmony in its balanced concern for the subject and for abstract principles of design. "I want the finished print to enable the viewer to see the design, the subject matter, from across the room, at arm's length or under a magnifying glass—also upside-down for satisfactory abstract design." Working from memory and quick sketches, Kloss produced remarkable images of life in Taos and the surrounding areas. Her work captures moments of Pueblo ceremonials, secret Penitente pilgrimages, quiet vistas, and daily life, cementing her memories as lasting images.

Producing more than 600 etchings over her lifetime, and an estimated 18,000 editioned prints, Kloss' prolific oeuvre demonstrates her devotion and care not only for a complex medium, but also for the lives and stories of Northern New Mexico. Art News wrote, "Gene Kloss is one of our most sensitive and sympathetic interpreters of the Southwest." One critic called her a "landscape mythic," another a "portrait psychologist."

This exhibition came together organically due to a remarkable donation of 12 Kloss prints from the Marilyn and Richard Shoberg Family, intended to be sold at our biennial national auction this July with Heritage to benefit the mission and vision of the Couse-Sharp Historic Site. The donation to the Estate Art Program sparked our interest in telling Gene's story and bringing her work and life back into focus here in Taos. The Site also recently received a collection of original Gene Kloss letters, and exhibiting them will raise awareness of the collecting scope of the Lunder Research Center—which includes any archival materials documenting the early artists of Taos, particularly female or Indigenous.

A show like this will raise the profile of our need for donations of archival materials, which help us tell a more nuanced story of Gene Kloss and her dynamic artist community.