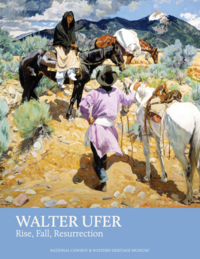 Walter Ufer: Rise, Fall, Resurrection
$30
Walter Ufer: Rise, Fall, Resurrection
Exhibition catalog
Softcover, 111 pages
From Feb. 7 through May 11, 2014, the National Cowboy Museum hosted the world premiere exhibition, Walter Ufer: Rise, Fall, Resurrection honoring the centennial anniversary of Ufer's first trip to Taos, NM in 1914 and the early beginning of the Taos Society of Artists. The exhibition included 50 works by Ufer and more than a dozen works by the artist's contemporaries.
Additionally, the exhibition included works by Ufer's closest associates, members of the Taos Society of Artists, Ernest Blumenschein, Victor Higgins, E. Martin Hennings, Oscar Berninghaus, J. H. Sharp, Bert Phillips, E. I. Couse, W. H. "Buck" Dunton, Julius Rolshoven, and Catharine Carter Critcher. Ufer's students are represented by works from Edmund Davison and the brothers Carl and Frank Woolsey, as well as his wife of 20 years, Mary Monrad Frederiksen Ufer.
The exhibition was curated by Dean Porter, Ph.D., Director Emeritus of the Snite Museum of Art located at the University of Notre Dame. Dr. Porter is a historian and specialist on the Taos Society of Artists with a special focus on Walter Ufer and Victor Higgins, and a member of The Couse Foundation advisory board.

shipping:$4