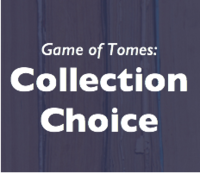 Game of Tomes: Collection Choice tier
$100
For your donation of $100, the Collection Choice tier features your choice of
a signed copy of the just-released The Couse Collection of Native Beadwork
or
a signed copy of The Couse Collection of Pueblo Pottery.
You will be asked for phone and email information in the checkout process and we'll contact you about which book you want. To choose this donation tier, please click on the PayPal button below. If you do not wish to complete the transaction with a credit card, please call our office at 575-751-0369 to make an alternate arrangement.
You'll receive a donation acknowledgement for the value of your donation less the retail value of the book ($72 net donation). Thank you for your support!

shipping:$0