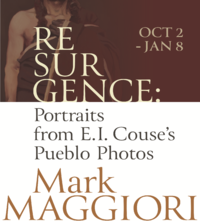 Resurgence exhibition poster
$90
The poster for the recent exhibition Resurgence: Mark Maggiori Portraits of E. I. Couse's Pueblo Photos shows Mark's painting Buffalo Dancer featuring Antonio Lujan. The 17.88" x 27" poster has been issued in a limited edition of 200 sold exclusively through Couse-Sharp Historic Site. The unnumbered copies are signed by the artist.
Resurgence poster is $90
For USA orders, shipping and handling is $13
For international orders, shipping and handling are custom, because as you are no doubt aware shipping charges have skyrocketed. If you are outside the United States, you may contact us first to discuss your shipping options, or you may buy the poster with basic shipping for US$103 and we will contact you to discuss additional charges.
Limit 4 posters per customer.
See more about the recent exhibition at ResurgenceMaggiori.com

shipping:$13